As previously announced, provisions of Title 55 of Virginia's Code are being transferred to a new Title 55.1, causing the statutory requirements for the following documents to change as follows (note: only the requirements impacted are listed):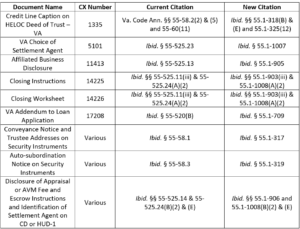 Of these documents, only two (Cx5101 and Cx17208) promulgate current citations. We will be updating them to reflect the new citations, effective October 1, 2019.
If you have any questions or concerns about these changes, please contact Client Support at 1.800.497.3584.
DR 298575